Florida Buyer Broker
Beverly Howe is the Owner/Buyer Broker and a full time career professional with decades of experience working with real estate buyers.
BUYERS ARE MY ONLY BUSINESS!
I'LL TAKE YOUR SIDE!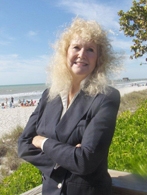 "THE MOST IMPORTANT THING A BUYER CAN DO IS FIRST OF ALL WORK WITH A BUYER BROKER."
As stated by AARP and the Consumer Federation of America from REALTOR® News
Beverly Howe's family moved to St. Cloud in central Florida in 1965. Beverly traveled throughout Florida after graduating from Florida State University in Tallahassee. In 1981 Beverly received her first Florida real estate license with Realty World in Bartow, Florida. Soon after she moved to Fort Myers, Florida where she became a Graduate of the REALTOR® Institute, obtaining her GRI designation. In 1993 she moved to Cape Coral, Florida and worked as a buyer's agent with the buyer brokerage, Omega Realty. She completed her first Accredited Buyer's Representative course and moved her license to RE/MAX in Fort Myers. In 1997 Beverly moved to Naples, Florida and opened her own real estate buyer brokerage, HOWE…TO BUY REAL ESTATE, INC. Predicting the advent of buyer brokerage, she obtained the domain name https://FloridaBuyerBroker.com in 1998 and soon after opened a buyer brokerage branch office to do business under the fictitious name, FLORIDA BUYER BROKER. FLORIDA BUYER BROKER is now the registered Tradename with the State of Florida under which HOWE…TO BUY REAL ESTATE, INC. is doing business. Beverly's home remained in Naples until 2020, at which time she began traveling again, researching locations and properties to help buyers in Florida. Beverly Howe is the only buyer broker working legally under the Tradename FLORIDA BUYER BROKER. She is friendly and loves to talk about real estate. She has a wealth of knowledge to share with real estate buyers to help them with their Florida relocation or property purchase in different Florida locations.
Beverly Howe will assist you with your resale, or new home or condominium property purchase. You will arrive at your decision based upon precise information and accurate answers to your questions. Your real estate purchase transaction will be as smooth and worry free as possible.
Florida Buyer Broker commissions, like all other cooperating broker is paid by the shared real estate commission already built into all REALTOR® listings, foreclosure properties and new construction. As your buyer broker she will help you find the best property for the lowest price and terms for you, the buyer.
Beverly Howe, FLORIDA BUYER BROKER'S brokerage relationship is always Single Agency for buyer's only. Our buyer clients receive undivided loyalty throughout the real estate transaction.
See Fiduciary Duties required by Florida Law and Brokerage Relationships for more information about Single Agency Relationships.
SPECIAL RECOGNITION
Beverly Howe received Creative American's Award
Beverly Howe has Multiple years of FIVE STAR BEST IN CLIENT SATISFACTION
Beverly Howe has Multiple Top Producer Awards
EDUCATION – Beverly Howe
Master Certified Negotiation Expert
Graduate of the REALTOR Institute
Graduate Institute of Luxury Home Marketing
Accredited Buyer's Representative
Certified International Property Specialist
Accredited Cape Coral Residential Specialist
Senior Real Estate Specialist
Transnational Referral Certification
1031 Exchange Specialist
The Real Estate Success Series
Ethics
Core Law for Real Estate
Home Buyer Programs
Negotiation Workshop for Commercial Real Estate
Financial Analysis for Commercial Real Estate
Mastering Presentation Skills for Commercial Real Estate
Global Real Estate Transaction Tools
Europe and International Real Estate
The Americas and International Real Estate
Asia-Pacific and International Real Estate
Negotiation Across Generation
Advanced Negotiation Techniques
Cultural Factors in Real Estate
Hometown Hero's Program
Graduate Florida State University
Beverly Howe, – Owner/Buyer Broker
FLORIDA BUYER BROKER. . .At Your Service
I am friendly and easy to talk to. Phone calls are the best to contact me BEVERLY HOWE
Please leave a message if I do not answer. I will return your call ASAP.
Best Direct: 1-239-601-2013
Toll Free: 1-800-283-7393 US & Canada
I'LL TAKE YOUR SIDE!
Florida Buyer Broker is a registered Trademark in the State of Florida. All copyrights reserved.
https://cleversubmitter.com